Registration of goods order
1. How can i order a product?
First thing you have to do is create an account. Information about registration is here. After that you can purchase any product on our website simply by clicking "Add to cart" button, yellow box on right side.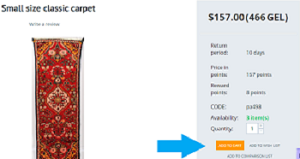 Then you can either continue shopping or go straight to checkout. After you are done shopping you can view your cart by clicking to ''My cart".
2. Is it possible to cancel an order after it has been approved?
3. Is it possible to buy and send products to others?
4. How long can the order be canceled?
5. What time of day is it possible to place an order?
6. I need an advice on how to place an order and buy a product. What should i do?
7. How to cancel my order?
8. What are the different payment methods for purchasing products?
9. What if my payment failed and my account was debited?
10. Is it possible to order by phone or other means?
11. Do you have a place where we can see and select products in an customized way?
12. Are The carpet images used in the sale are real or edited in color or appearance?
13. Is it possible to purchase and order non existent products?
14. Does your products have warranty?
15. How much is the tax on your product?